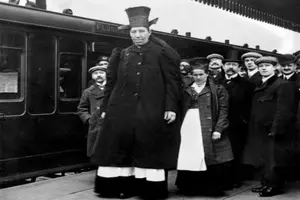 Maine's Tallest Woman: Sylvia Hardy stood Eight Feet Tall
Topical Press Agency, Getty Images
Today is 'Tall Girl Appreciation Day'. It goes along with the first day of summer being the an extra-long day to celebrate extra-long women. It always lands on the first full day of summer.
The tallest women in Maine was born and lived in Wilton. Her name was Sylvia Hardy and was known as the 'Maine Giantess'.  She was born in 1824 and half of a pair of twins that weighed 3 and a half pounds at birth.
Sylvia's brother died but she grew and grew and grew and didn't stop until she was 8 feet tall. She had to stoop down to go through doorways and it was said she used whiskey glasses for thimble.
Her growth spurt didn't start until she was teenager but she kept growing until she was 40 years old. Newspaper reports kept up with her growth from year to year, reporting her from 6'10" to 7' 10" depending on the year of the report.
Hardy worked for the Barnum Circus and was good friends with General Ton Thumb and his wife. After ten years in the circus she retired back to Wilton, Maine and lived to be 65 years old.
Wilton celebrates their biggest attraction with an exhibit of her personal effects and a life-sized replica of her in the town museum, as well as a plaque on her grave.
The exhibit can be found on the top floor of the Wilton Farm and Home Museum, a 150-year-old ex-dormitory for the Bass shoe company, which started in Wilton.