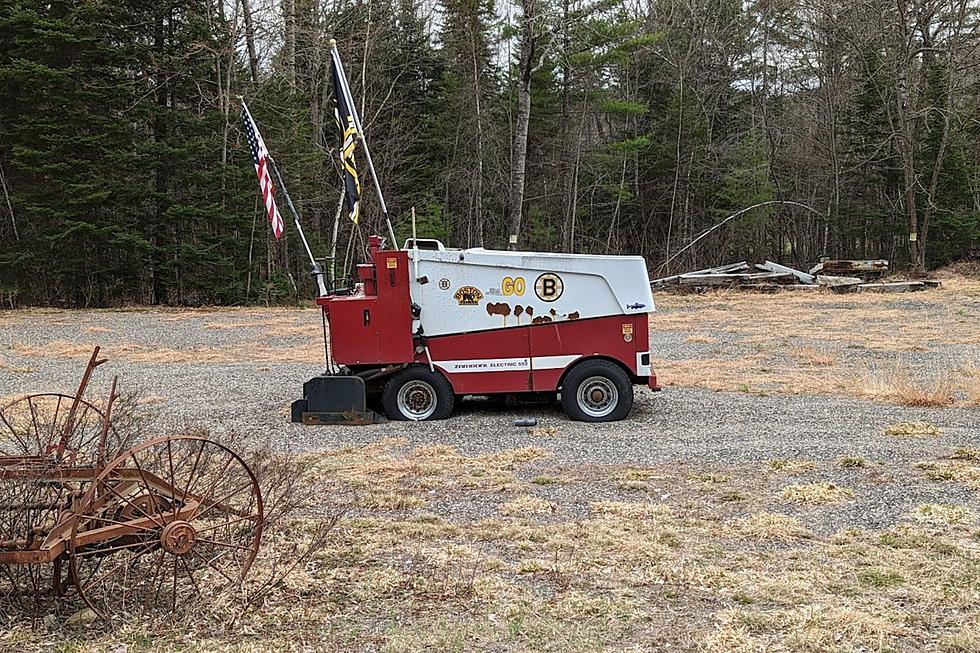 Only in Maine: A Boston Bruins Zamboni in a Field on the Side of the Road
Jeff Parsons - Townsquare Media
I want to say I was surprised to see this, but honestly, we live in Maine. You have to expect the unusual.
In case you are not a hockey fan, the Boston Bruins broke two big records this season. They finished with 65 wins and took the record for most wins away from the Detroit Red Wings and Tampa Bay Lightning who achieved 62 wins each.
They broke the record for most points scored in a season with 135 Beating the record that the Montreal Canadiens have held since 1977.
Now they are in Round 1 of the Stanley Cup Playoffs and as of this writing, have a 3-game to 1 lead over the Florida Panthers. It goes without saying that Bruins fans in New England are excited and eyeing the Bruins hoisting that cup over their heads.
I was driving to Glen, New Hampshire this weekend and caught something on the side of the road, and had to do a double-take. "Is that a Zamboni?" I thought to myself. I wasn't sure so I made sure I stopped on the way back to find you. Sure enough...
Welcome to Brownville, Maine!
I thought that this was just out here for the Stanley Cup playoffs, but nope. I search on Google Street View showed it was there when the Google camera car passed it on Route 113 in November 2022 only a month into this season.
The Zamboni is flying both the American and Boston Bruins flags and has Bruins logos. If you're a Zamboni geek, you'll want to know that it's a Zamboni Model 552 Electric.
I felt weird standing on the side of the road taking pictures of random Zamboni in a field, but that's my job.
Maybe this Zamboni in Maine is a good luck charm for the Bruins. If they end up going all the way and win the Stanely Cup, I'm going to chalk it up to the Bruins Zamboni in Brownfield, Maine.
These 15 Maine Restaurant Meals Need To Be On Your Bucket List
Here are 15 Maine restaurant meals that will satisfy your craving and check off a mark on your bucket list!
The 7 Richest "Mainers"
According to
Money Inc
, these are some of the richest people with ties to Maine.