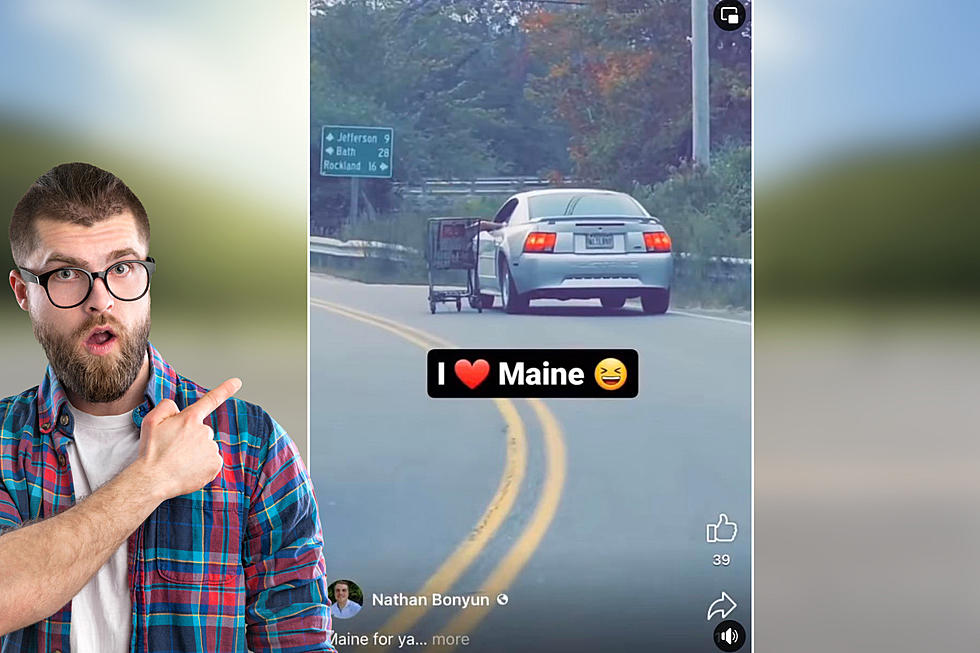 Only in Maine: Mustang Towing Shopping Cart Out of the Side of the Window
Nathan Bonyun via Facebook/Canva Pro
You've all heard of the "Only in Maine" saying, right?
Have you heard the one where someone was pulling a shopping cart out of the window while they were driving down the road in Waldoboro?
As I was scrolling through Facebook, a video caught my attention, like wicked hard, bub.
This video was shared by local content creator Nathan Bonyun. While he was in Waldoboro, something super unusual caught his eye so he started filming.
Right there in front of him, he saw a shopping cart casually rolling down the road tethered to a Mustang. Yes, you read that correctly, they were actually driving down the road amidst traffic, towing a shopping cart.
The guy had one hand on the wheel and the other pulling the cart.
If you find it hard to believe, I truly encourage you to take a look at the video below for proof.
The first thing that came to my mind after seeing this video was "I want to jump inside the cart and go for a ride." Of course, my youthful thought is not safe but it came to mind.
This video has been circulating online and getting a lot of views.
I found out WHY it was being driven back to Hannaford!
I spoke about this on-air and a woman named Ashley called and gave us the scoop.
Apparently, this shopping cart was immersed in a nearby pond for years and city members have been complaining about it for a long time on a community Facebook page.
So Ashley's friend, Rena took it upon herself to pull over, walk down to the water and fish out the metal eye sore. She then hooked her arm to it and drove it back to Hannaford where it belongs.
This is amazing!
10 Best Burgers in Maine
The 2 Most Common Cold-Related Illnesses in Maine
Be alert as we will be having more cold temps and with that, you are at risk of the two most common cold related illnesses in Maine.
Gallery Credit: Lizzy Snyder