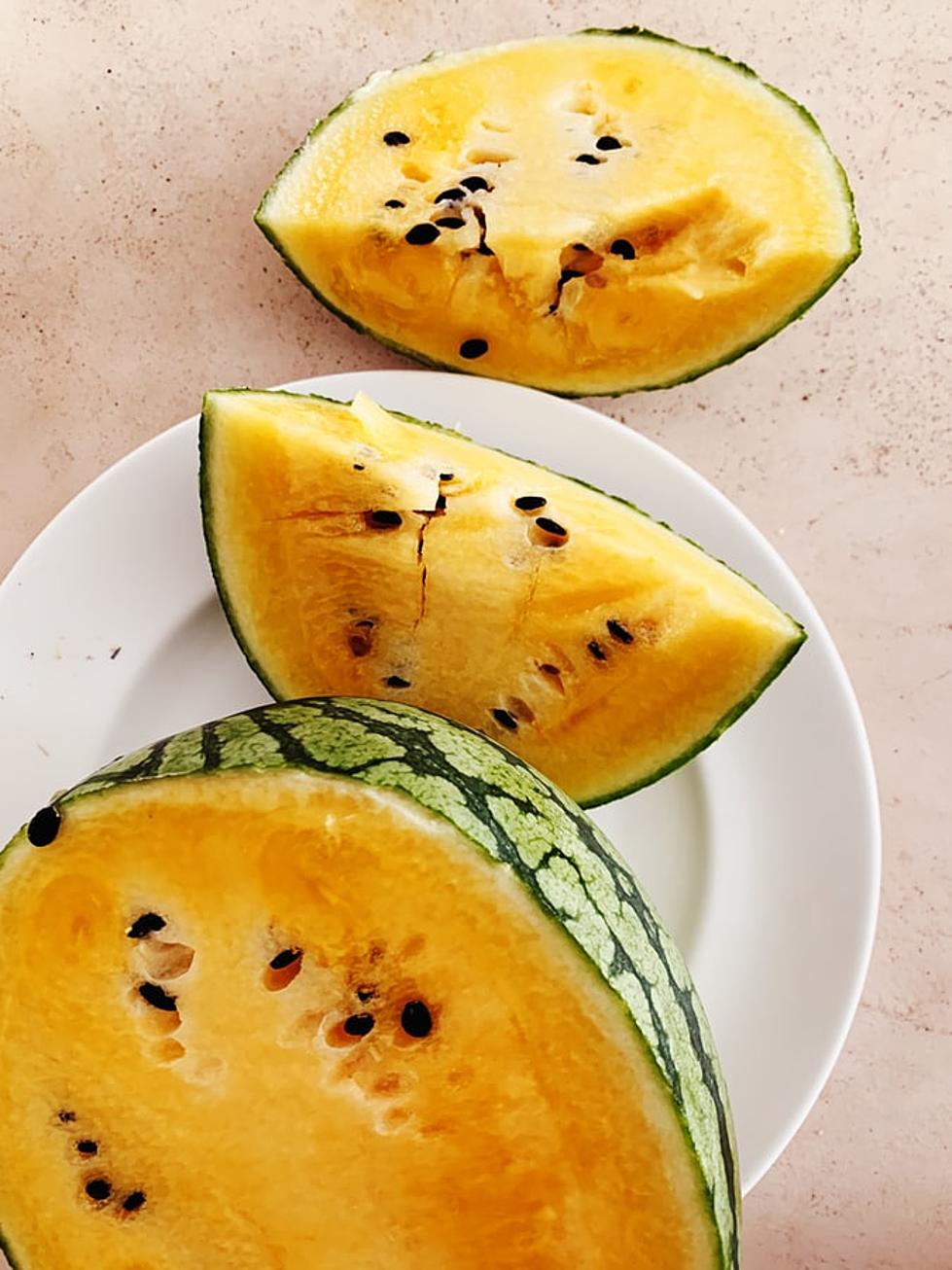 Believe It Or Not, This Watermelon Is Supposed To Be Yellow
Betty Subrizi/unsplash
Did you know there are several types of watermelons?
No, I'm not talking about whether or not the watermelon is seedless or not. I'm talking about the flesh inside of the watermelon.
Of course, most people know that watermelon usually tastes super sweet especially if you pick a ripe one. But did you know that there is actually such thing as a Yellow Watermelon? Now, the outside of the watermelon isn't yellow, the inside flesh however is BRIGHT YELLOW and it even tastes different than a traditional watermelon.
I'm gonna take a wild guess that you didn't know about yellow watermelons either.I wouldn't have known about these rare yellow watermelons either, had I not purchased one at Sam's Club a few years ago by accident.
It was any old summer day and I was craving the sweetest watermelon on the vine, only to get home to be severely disappointed the minute I cut into it. My first and only thought was this watermelon is clearly rotten, although it didn't smell bad.
Come to find out, Yellow Watermelons are called Yellow Crimson Watermelons and they have a very sweet-honey flavor!
I didn't try the Yellow Crimson but I'm curious if you've ever tried one. If so, how was it? Did you like it more or less than traditional watermelon?
You Can Now Mine For Gold While Visiting Old Orchard Beach, Maine
Ultimate Maine Playground Guide (Part 1 - Augusta, Gardiner, Winthrop, Wiscasset)
If you have a family, there is almost no better way to spend a warm, sunny, day than by hanging out at a local playground. Here's a list of some of the best playgrounds in Central Maine. Find these, and more, playgrounds on
Google Maps
Ultimate Maine Playground Guide (Part 2 - Waterville / Skowhegan Area)
This section of our guide covers the Waterville, Fairfield, Madison, Skowhegan area. You can find these, and more, playgrounds on
Google Maps
Ultimate Maine Playground Guide (Part 3 - Mid-Coast Maine)
Here are some of the more notable playgrounds in the Rockland / Camden / Belfast area. You can find these, and more, through
Google Maps
Hey, have you downloaded our FREE app? If not, you totally should. With the app, you can stream us anywhere at any time; you can also send us messages, win exclusive prizes, and you'll even get the latest breaking news sent right to your phone. Want to download the app right now? All you've got to do is enter your mobile number below and we'll send a download link right to your mobile device. It's that easy!