Hannaford Recall Of Peaches Due To Listeria Concern
Getty Images
The USDA has posted a recall for fresh fruit sold across 18 states, including Maine for possible listeria contamination. Listeria is an organism which can cause serious and sometimes fatal infections in young children, frail or elderly people, and others with weakened immune systems. Although healthy individuals may suffer only short-term symptoms such as high fever, severe headache, stiffness, nausea, abdominal pain and diarrhea, Listeria infection can cause miscarriages and stillbirths among pregnant women.
According to the recall, the fresh peaches, fresh nectarines and fresh plums were distributed in Alabama, California, Georgia, Illinois, Kentucky, Maine, Massachusetts, Michigan, Mississippi, New Jersey, New York, North Carolina, Ohio, Pennsylvania, South Carolina, Tennessee, West Virginia and Virginia.
Fruit sold in the following Walmart, Costco, Aldi, Fairway Market, Hannaford and Market Basket stores are also subject to the recall: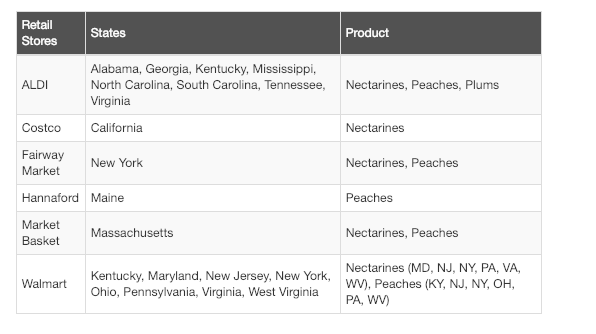 Some 1,727 cartons of peaches, 1,207 cartons of nectarines and 365 cartons of plums are being recalled. The peaches and nectarines were sold in bulk and come with the PLU sticker numbers 4044, 3035 or 4378, and show the country of origin as Chile.
The recall announcement urged consumers to return the fruit to the place of purchase for a refund.