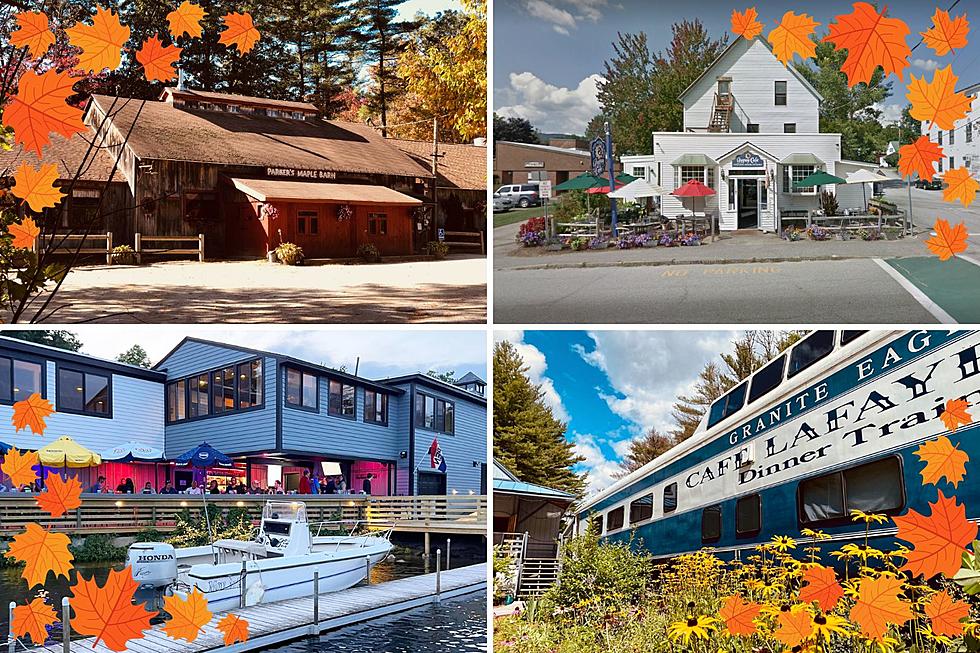 New Hampshire Fall Restaurant Guide: 8 Establishments Worth Visiting in the Autumn
Canva, Google Street View, Parker's Maple Barn, Walter's Basin Restaurant & Basshole Lounge, Cafe Lafayette Dinner Train via Facebook
Anyone who knows this writer knows that fall is one of her favorite times of year.
Not only is the foliage beautiful, but one can enjoy seasonal activities like apple picking, corn mazes, and leaf peeping, while also savoring treats like pumpkin beverages, baked goods, and more. Then of course, there's Halloween and all the fun things that come with the holiday, like ghost stories, haunted houses, spooky movies, costumes, and trick-or-treating. We could go on and on. Fall is a special time of year, and there's nothing quite like it in New England.
At the same time, our region is also known for its fantastic dining options. It's no secret that we have a loud and proud foodie population here in New England, and with good reason. Our restaurant industry is killing it, and there's never a shortage of new establishments opening their doors to the public. You can never run out of places to visit for your next dining experience, especially in New Hampshire.
So, let's discuss a topic that's the best of both worlds: the most popular restaurants in New Hampshire to visit during the fall. Maybe these places have special seasonal food and beverage offerings, or perhaps they're surrounded by the scenic foliage that people from all over flock to see. Whatever the case, below are eight establishments that Granite Staters can't wait to visit during the autumn season.
New Hampshire Fall Restaurant Guide: 8 Establishments Worth Visiting in the Autumn
Gallery Credit: Megan
Speaking of autumn, here are some popular seasonal activities in New England that make up the ultimate fall bucket list.
This New England Fall Bucket List is Filled With Foliage, Festivities, and Fun
Gallery Credit: Megan
Get Ready for a Cozy New England Fall With These Must-Have Seasonal Decorations
Gallery Credit: Megan