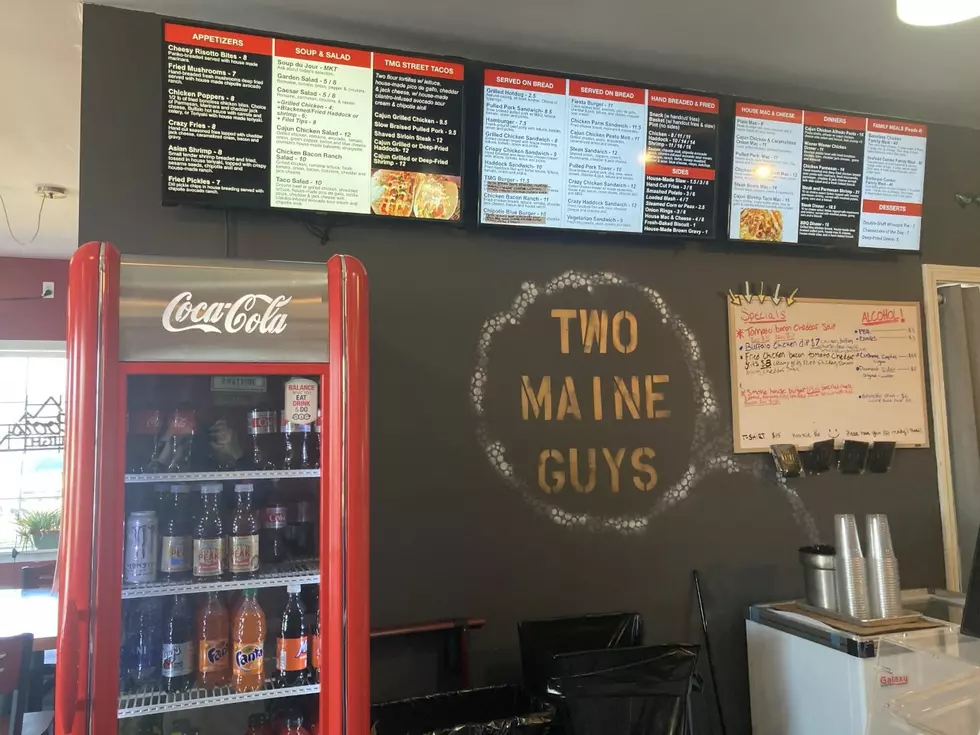 Two Maine Guys Is A "Must Go To" Restaurant
The menu is loaded with awesome offerings
Buzz & Kristi Food Adventures is underway! This is a special show feature of Buzz & Kristi in the Morning where we visit Maine restaurants that you recommend and report back with video, photos, and a blog post so that you can get the true "nitty gritty" on these places.
Our first adventure takes us to 164 Main Street in Richmond, home of "Two Maine Guys". What started out as a food truck in Augusta has now been moved to a brick n' mortar restaurant. The owner of Two Maine Guys, Devin, said business has been great since the move. His Facebook & Yelp reviews speak for themself however, being Kristi's favorite restaurant, I had to experience it for myself to see what all the hype is about.
Keep in mind the seating is tight inside, especially due to Covid spacing however, with nicer weather on the way Two Maine Guys has a lovely outdoor seating area, and quite frankly, the food is soo good, I gladly eat it in my truck if I had to!
The menu items are many and fun, the offerings do slightly change seasonally as well. It doesn't matter if you are in the mood for just appetizers, soup & salad, sandwiches, entrees or even dessert, Two Maine Guys has you covered.
We decided to start off with some Asian Shrimp as an app, and I was blown away at how delicious these were, seriously I would make the trek just for those! Kristi opted for her favorite Hand-Cut Fries and a Chicken Sandwich, I went with the Cajun Grilled Shrimp Street Tacos.
Two Maine Guys
I was super impressed with every item we ordered, it arrived to our table, hot, fast, and nicely presented. I'm not always a fan of hand cut fries as they often come out limp, and lifeless but not here! I was so impressed with these fries I had to ask Devon about them and how they made them so crispy? He confided in me that they triple fry the fries to get an amazing crispness to them.
Both Kristi & I can attest that everything we ordered was amazing! I even added an order of their made to order house Mac n' Cheese, Chicken Bacon Ranch style to I could indulge again for dinner.
They have daily specials and yummy looking desserts too but both of us were stuffed, so perhaps next time.
I have to say rarely am I as impressed as I was with this Food Adventure to Two Maine Guys in Raymond. I don't know what I expected but my expectations were blown away and I can't wait to go back!
Even if you need to make it a destination, find time and go to Two Maine Guys...you won't be disappointed! Oh yea, tell them Buzz & Kristi sent ya!
What Are the Signature Drinks From Every State?